Ice Genie is unlike any ordinary ice cube trays, this Ice Genie has a unique dual-chamber design and a large capacity of 5.12*5.5-inch size. The outer chamber can be used to freeze ice cubes, while the inner chamber can be used to store them. You can make 40 beautiful ice cubes at a time. The inner cylinder can hold up to 120 ice cubes. It not only saves space, but is also easy to carry, therefore it replaces lots of traditional ice cube trays. The Ice Genie is made of high-quality materials and food-grade silicone are safe, easy and durable in use. The internal keeping temperature for the cold drinks guarantees no melting of ice. Fashionable and handsome appearance, and a stylistic and popular design makes it proper for your use in office time or daily life.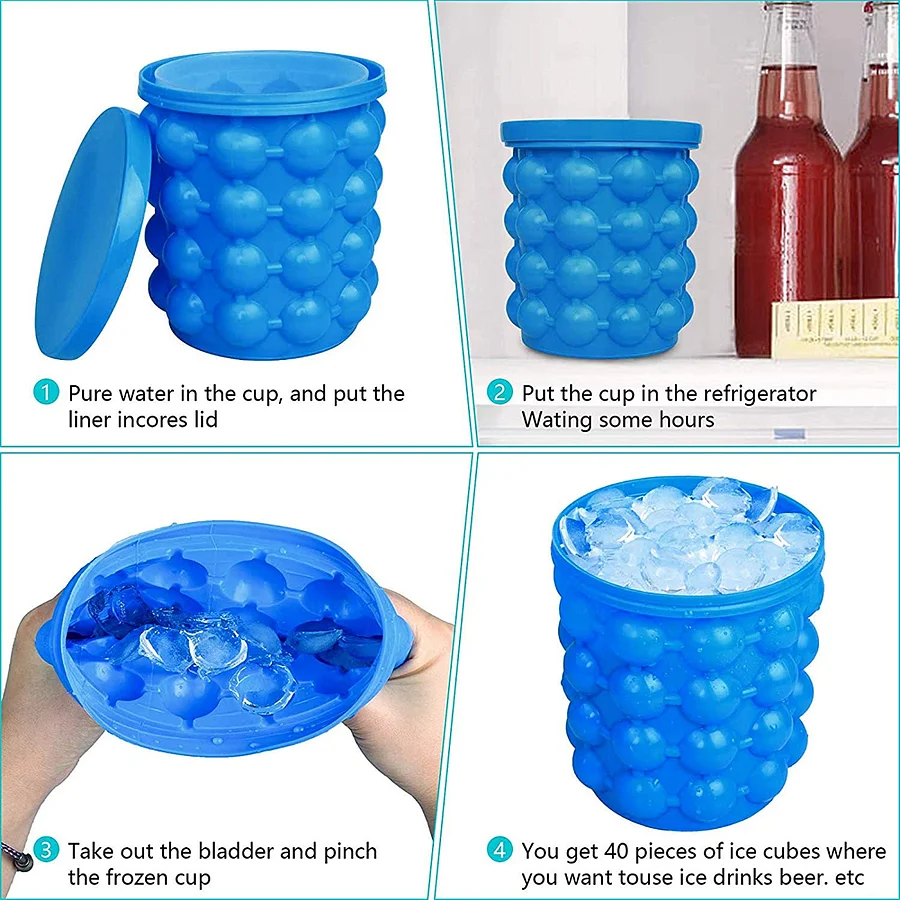 Features:
NEW & IMPROVED Ice Genie Ice Cube Maker now makes 24 cubes at a time and holds up to 120 traditional ice cubes. The cubes are now 1" compared to the original unit creating ¾" ice chips.
FILL THEN CHILL Simply fill the translucent outer chamber with water, squeeze outer chamber to release the inner cylinder after water freezes, and easily squeeze outer chamber to release the cubes. The new softer outer material makes ice removal easier & closed inner chamber makes sure there are no leaks & serves as an ice cube tray! The lid also provides aid in removing the inner chamber if placed under unit and pushed down.
SAVE SPACE IN YOUR FREEZER The revolutionary design can replace up to 4 traditional ice cube trays in your freezer! Can also fit perfectly inside mini fridges!
USE AS A DRINK HOLDER Whether you're throwing a party, wine night, or relaxing by the pool, Ice Genie doubles as a portable cooler to keep your beverages cooler for longer or quickly chill bottled beverages!
DISHWASHER SAFE, BPA-FREE & ODOR-FREE Ice Genie is made of high quality, flexible food-grade silicone that is made with safe BPA-Free materials. Our ice cube maker is easy to clean being that it is top rack dishwasher safe. The form-fitting lid keeps your cubes fresh and odor-free.