The ChristmasGlow Will Make Your Christmas Unforgettable☃️
Brighten up your home decorations with the ChristmasGlow LED string lights. ChristmasGlow combines 100 bright, colorful RGB LEDs, a Wi-Fi/Bluetooth controller, and a smartphone application, ready to perform amazing animations easily and quickly. The 1 tap Bluetooth connection makes it great for configuring multiple products and the Wi-Fi connection makes it is easy to control through remote control. ChristmasGlow offers a wide variety of effects, ready to be played and customized with full access to the online gallery, where new animations are always available for download. It is now time to bring the ChristmasGlow LED string lights into your home and brighten up your room.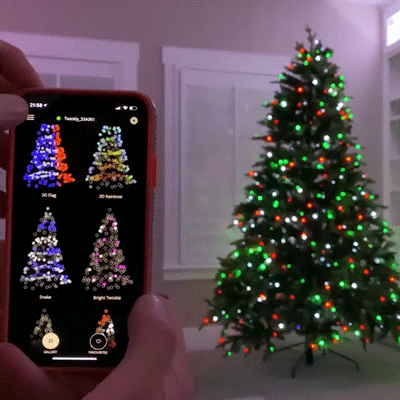 ATTENTION: Due to increasing demand and virality on social media, we have limited stock left during the holiday times. To secure your ChristmasGlow LED Lights, place your order now, as we can not promise we will have any left.
APP CONTROLLED
Use the App for iOS and Android to map the light strings, and create custom lighting displays. The multicolored smart lights instantly connect to Bluetooth or WiFi networks.
SMART LIGHTS WITH MUSIC SYNC
LED light strings are IOT ready! With the music sensor, you can sync Christmas lights with your favorite tunes.
FAST AND EASY SETUP
The brand new Generation II controller is more powerful than ever. Connect instantly via Bluetooth. The step-by-step guide helps you set-up and configure it with ease!
It is the evolution of the classic Christmas lights and a true innovation in how you light up your tree. It features a smart design that gives you the ability to personalize your lighting effects for an even greater experience. Designed for intuitive use, just connect over Wi-Fi and you will be playing with your lights in a matter of seconds.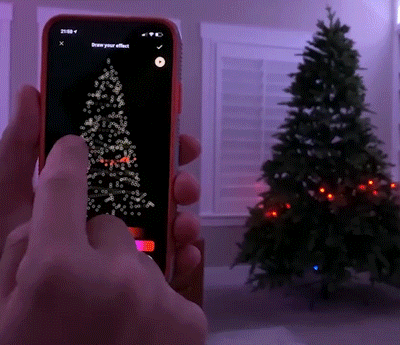 You either select pre-made light designs and animations from the app or even program your own design to match your favorite sports teams' colors, and unique animations . and more.
Control The L

ights Remotely

Draw & C

ustomize

Synchronize W

ith Music

Download New Animations
Included Animations
Carousel Animations
Gradient Shift
Speed and Intensity
Colour Change
Patter Switch
Rotate
And More!
Connect Multiple Sets Together!
Am I Limited To Controlling 1 Set?
Not at all!
With our LED lights you can control, map, and design animations for 10 different sets of 4000 LEDs at once!
With this unique feature, you're able to create stunning lighting displays around and outside the home all with a swipe of your finger.
Example – You can connect a 9 x 32m lengths (3,600 LEDs) and an icicle light set (190 LEDs) together or 10 x 32m lengths (4000 LEDs)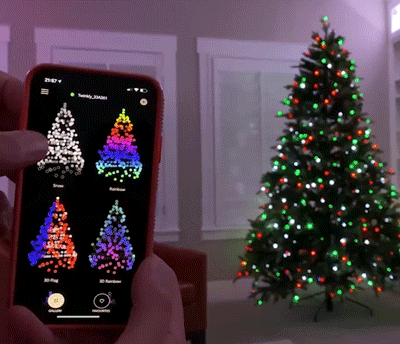 Package Includes:
1x ChristmasGlow LED Lights
1x Worldwide Universal Outlet
1x Instruction Manual